Daily Show Schedule – Subject to Change 
January 25-27, 2024 – Puerto Vallarta, Mexico
Show Schedule
Daily Schedule – Subject to Change
Thursday, January 25, 2024
9:00am-6:00pm – Summit Registration – Booth Setup
9:00am-6:00pm – Beach, Pool, Tennis, Tours
7:15pm-7:30pm – Supplier/Buyer Orientation
8:00pm-11:00pm – Welcome Reception & Dinner with Entertainment
Friday, January 26, 2024
7:30am-9:00am – Breakfast
9:10am-10:50am – Speaker Sessions
10:55am-1:20pm – Exhibit Hall Open, One-on-One meetings
1:25pm-2:40pm – Lunch
2:45pm-5:35pm – Show open, One-on-One meetings
8:30pm-12:30am – Reception, Dinner & Entertainment
Saturday, January 27, 2024
8:00am-9:30am – Breakfast
9:30am-11:20am – Speaker Sessions
11:25am-1:25pm – Show open, One-on-One meetings
1:30pm-2:40pm – Lunch
2:45pm- 5:20pm – Show open, One-On-One meetings   
5:20 – 8:00  –  Booth Breakdown
8:30pm-11:00pm –Gala Farewell Mexican Dinner Party 
Sunday, January 28, 2024
7:30am-8:30am – Departure Breakfast – Transport to Airport
Show Schedule
Daily Schedule – Subject to Change
Thursday, January 25, 2024
9:00am-6:00pm – Summit Registration – Booth Setup
9:00am-6:00pm – Beach, Pool, Tennis, Tours
7:15pm-7:30pm – Supplier/Buyer Orientation
8:00pm-11:00pm – Welcome Reception & Dinner with Entertainment
Friday, January 26, 2024
7:30am-9:00am – Breakfast
9:10am-10:50am – Speaker Sessions
10:55am-1:20pm – Exhibit Hall Open, One-on-One meetings
1:25pm-2:40pm – Lunch
2:45pm-5:35pm – Show open, One-on-One meetings
8:30pm-12:30am – Reception, Dinner & Entertainment
Saturday, January 27, 2024
8:00am-9:30am – Breakfast
9:30am-11:20am – Speaker Sessions
11:25am-1:25pm – Show open, One-on-One meetings
1:30pm-2:40pm – Lunch
2:45pm- 5:20pm – Show open, One-on-One meetings
8:30pm-11:00pm –Gala Farewell Mexican Dinner Party 
Sunday, January 28, 2024
7:30am-8:30am – Departure Breakfast – Transport to Airport
Knowing Yourself Makes You Powerful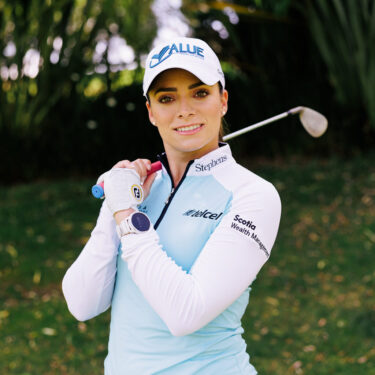 GABY LOPEZ
MEXICO'S TOP FEMALE GOLFER, LPGA CHAMPION & OLYMPIAN
Gaby sought to compete at the very highest level from the time
she took up the game of golf at the age of 4. At the University
of Arkansas, she was the program's best golfer since former
World #1, Stacy Lewis. Gaby's high level of skill and
competitive drive helped the Arkansas program ascend to the
top 5 in the country, but her coaches are quick to point out that
it was her incredible work ethic that set an example for the
entire team. Despite being one of the most driven players in
college golf, she wears her fun and expressive personality on
her sleeve, even in the heat of competition. As one golf writer
said so succinctly, "She's infectious! You just end up cheering
for her!"
Following in the footsteps of former world #1 golfer, Lorena
Ochoa, Gaby has the same opportunity to rally an entire nation
of over 122 million people behind her. As with the likes of
Ochoa, Fernando Valenzuela and Hugo Sanchez, Mexico has a
history of loyally supporting their sports stars. If her confident
play and impressive resume are any indication, Gaby Lopez
could very well be the next legendary athlete to come out of
Mexico.
Opportunities and Challenges to Nourish More Consumers in the Healthy Marketplace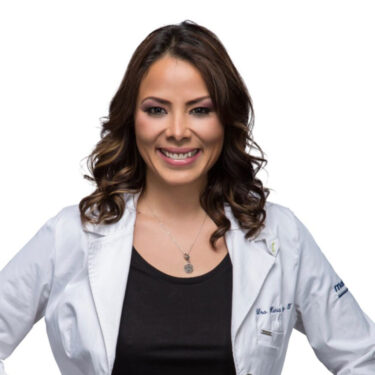 DR. HANIA GONZALEZ TERRONES
FUNCTIONAL MEDICINE SPECIALIST, NUTRIOLOGOS EN TLALPAN
Physician certified in Functional Medicine at the Institute for Functional Medicine, USA Founder in CANE (centro de apoyo nutricional especializado) for clínical medicine and nutrition in México Vicepresident in the Foundation FUNSIME (Foundation for obesity, diabetes, and metabolic syndrome.
Teaching procedures, courses, and detection campaigns in Mexico City, Tlalpan Profesor in Functional nutrition for physicians and nutritionists
Author of the book "Managing patients with obesity" Springer 2016 Author of multiple chapters of nutrition in different specialty books Speaker.
Snacking Time: Discovering The Balance Between Indulgence and Healthy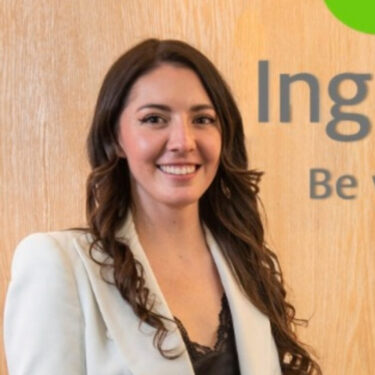 URSULA FRANCO ABARCA
CATEGORY LEAD, INGREDION MEXICO
Marketer, with more than eight years of experience developing Innovation & Marketing projects with a particular focus on generating innovation experiences, detecting opportunities that respond to changing consumer needs, and inspired by the main trends in the bakery, snacks, confectionery, and drinks industries in Mexico.
Trends in Probiotics for Health: From the Concept to Marketing
MARGHERITA PATRUCCO
TECHNICAL MARKETING AND PRODUCT DEVELOPMENT MANAGER, PROBIOTICAL S.p.A.
Margherita earned her Master Degree in Pharmaceutical Chemistry and Technology at UniUPO and her Master in Pharmaceutical Marketing at the ISTUM institute. She discovered her passion for human microbiota at the university and started working in the pharmaceutical industry before graduating. She took a professional pathway that included regulatory affairs and product development, leading to the positions of Innovation Manager and Scientific Director, and gaining extensive experience as speaker at medical and technical congresses. At Probiotical, she is in charge of Strategic and Technical Marketing, providing scientific support to the sales force and to customers, with strategic insight on the market and product training/launches, and monitoring the scientific panorama to anticipate innovation trends. This multidisciplinary role keeps her constantly and deeply involved in the research field of human microbiota and probiotics, as well in sales and strategic marketing activities.